It was 2002, my sophomore year of high school and my friend who just graduated gave me a cd full of bands
that I still listen to today during a time when all I listened to was the Red Hot Chili Peppers and Incubus. Minus The Bear, The Planet The, and Menomena were on that cd. All bands from the Northwest, Minus the Bear from Seattle and The Planet The and Menomea from Portland, the hipster haven for those Green indie-lectuals. Minus The Bear I consider to be a major part of my soundtrack of my life. The Planet The were an awesome prog synth band that surprised me.
And Menomena I band that I fell in love with after hearing this song:
Menomena – The Great Late Libdo (Off "I am the Fun Blame Monster")
I had the pleasure of seeing Menomena perform live this past Friday and was blown away by them. They reminded me of Van Der Graaf Generator whenever singer, Justin Harris would play baritone sax and play his Moog Taurus, a staple synth of 70 prog rock bands. Menomena is a band that I see going places in the future. They have a sound that is so pop with their amazing 3 part harmonies and multi-tasking instrumentation that is tasteful. The drummer, Danny Seim is a gentle giant that pounded the drums with such ease and established grooves that were linear and reminded me of a percussion section in an orchestra. The keyboardist/guitarist/glockenspier, Brent Knopf provided the band with a class and sophistication through his well thought piano parts that Debussy or Gershwin would enjoy. Overall Menomena is a band that, "musicates", striking a balance between technical musicianship and pop craftsmenship while leaving space for the imagination to fill in those gaps.
Photos from the Menomena show in Boston, 11.9.2007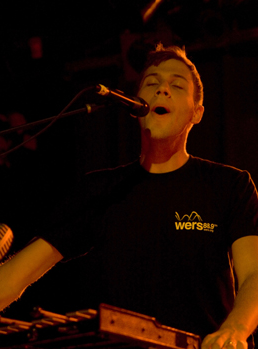 A great stripped down Menomena set featuring songs from their latest album, Friend and Foe.
Menomena – Live on WERS 88.9 FM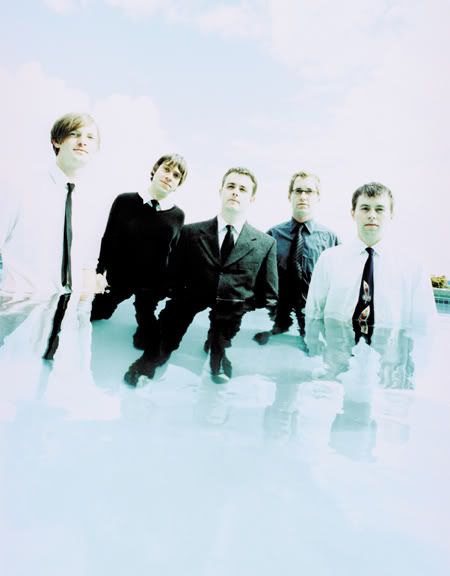 Minus the Bear – Spritz!!! Spritz!!!
The Planet The – Arty Movie
Cheers Jack Kalish
P.S. RADIOHEAD TURN DOWN MCCARTNEY COLLABORATION